Mburo Safari Eco Lodge
Mburo Safari Lodge
Welcome to our website
Mburo Safari Lodge is a luxury and eco friendly lodge in Lake Mburo National Park.
Relax in one of our luxurious cottages, all raised on a wooden platform and covered by a grass-thatched roof, perfectly blending with the natural environment, stylishly and thoughtfully designed for your absolute comfort, convenience, and pleasure.
All cottages have a private balcony with a great view and chances to see the wildlife of Lake Mburo.
The luxury cottages are spacious, very comfortable and equipped with a clean private bathroom with hot shower and flushing toilet. Comfortable king-sized beds with mosquito nets will make sure you have a perfect night.
Lake Mburo National Park
Mburo Safari Lodge is situated in Lake Mburo National Park in Kiruhura District, it is said to be one of the most enchanting places in Uganda. Mburo Safari Lodge is the best place in the country to see markedly different faunal species which cannot be easily found elsewhere in Uganda: Zebra's, Impalas and Eland Antelopes.
Mburo Safari Lodge is blessed with breathtaking views.
Mburo Safari Lodge is often visited by Zebra's, Buffalos, Impalas and sometimes even by a Leopard.
Mburo Safari Lodge has a resident Bushbuck and a resident troop of Vervet Monkeys. It is a true birder's paradise and an oasis of rest.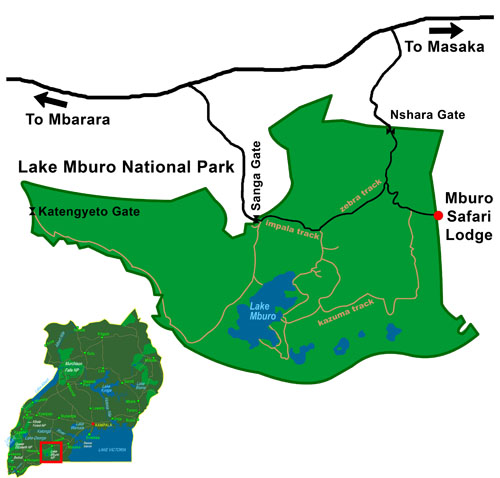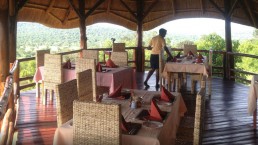 Our High Class full-service Restaurant serves a wide variety of mouth watering fine Ugandan and international cuisines. From our restaurant everybody has a splendid view of Lake Mburo National Park.
We have 2 dining rooms, 2 lounges and a bar. Enjoy the sounds of the bush and the beautiful sunset while eating a tasteful meal from our highly praised kitchen.
The restaurant has a gift shop and free WiFi.

Easy Access to Swimming Pool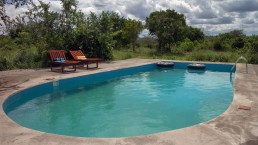 All guests have easy access to our large Swimming Pool. Take a swim or relax in the sun, while we serve you a drink or a bite. We provide you with free large towels.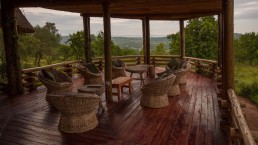 Our bar is well stocked with a very wide range of soft drinks, wines and spirits from across the globe. The wine menu is one of the best in the country and is equally matched by the quality of the food, the standards of service and the genuine friendliness of the staff.
A lot of attention, care and love to detail are invested to ensure that each day is purely magical!!
[content name="green-lodges"]
[content name="payment-methods-footer"]