FACILITIES
For maximum comfort we have the following facilities available for our guests:
High Class Restaurant (with platform for wildlife viewing)
2 lounge rooms with a lot of privacy
Well stocked bar
Swimming pool

In the restaurant, lounge and bar there is free wifi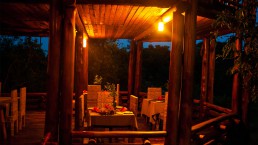 Our High Class full-service Restaurant serves a wide variety of mouth watering fine Ugandan and international cuisines. Although our menu is quite extensive, should you have a special wish, our Chef will be delighted to be at your service. From our restaurant everybody has a splendid view of Lake Mburo National Park. We have 2 dining rooms, 2 lounges and a bar. Enjoy the sounds of the bush and the beautiful sunset while eating a tasteful meal from our highly praised kitchen. The restaurant has a gift shop and free WiFi.
On the 'Mburo Rocks' we make Bush Fires and special event breakfasts, lunches or dinners. The 'Mburo Rocks' are also the best place to see the spectacular sunrise.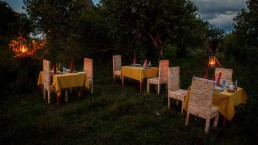 The restaurant has a secluded balcony for the best views of the surrounding attractions.
Wildlife watching can be done from the rooms and Balcony of the Restaurant.
We have installed a telescope for optimal birding from the balcony of the restaurant.
MBURO ROCKS
Wildlife viewing can also be done from the Mburo Rocks, on the backside of the Restaurant. Here you can enjoy a beautiful sunrise. This is also where our resident group of Vervet Monkeys stays.
Easy Access to Swimming Pool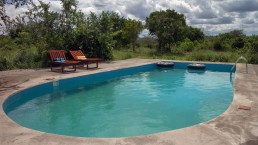 All guests have easy access to our large Swimming Pool. Take a swim or relax in the sun, while we serve you a drink or a bite. We provide you with free large towels.
Mburo Safari Lodge is often the last lodge in a Uganda trip, so people really enjoy the swim before driving back to Entebbe for their outbound flight!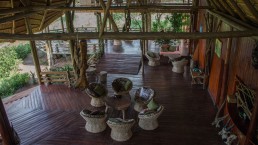 Our bar is well stocked with a very wide range of soft drinks, wines and spirits from across the globe. The wine menu is one of the best in the country and is equally matched by the quality of the food, the standards of service and the genuine friendliness of the staff.





We accept the payment methods above for bookings.
On site we only accept payments in cash (USD or Ugandan Shillings)